The winners of inaugural Hellenic American Maritime Awards announced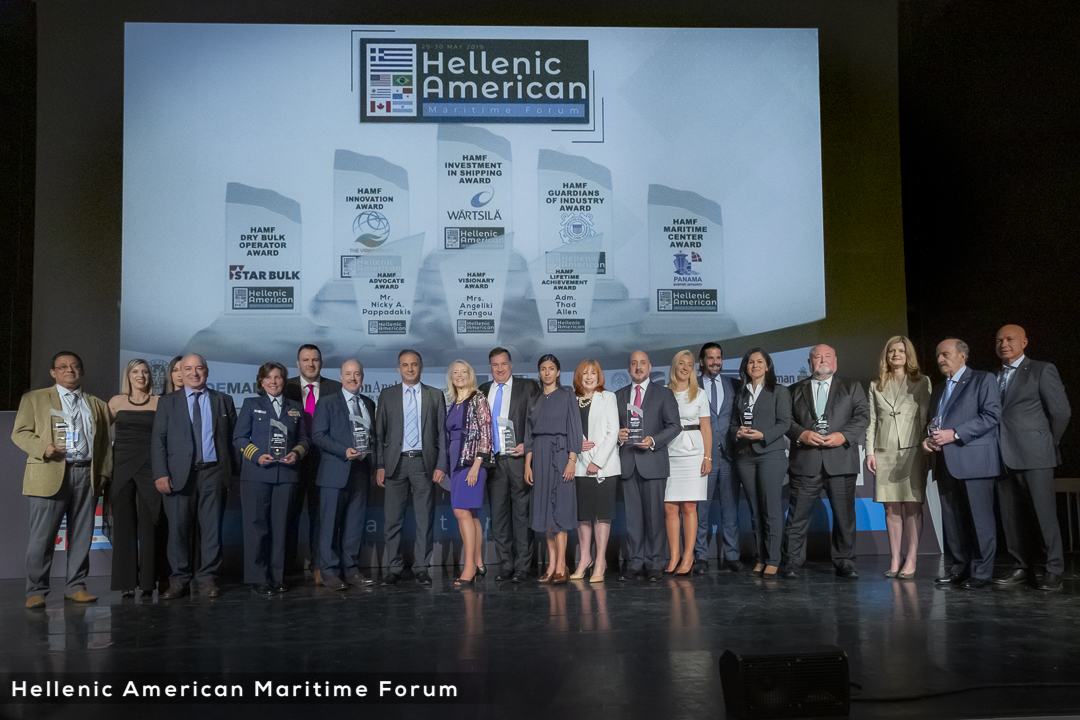 The winners across the eight maritime categories who walked with a Hellenic American Maritime Award were announced at a gala dinner and award ceremony which successfully concluded on May 29th at Megaron Athens, The Banqueting Hall, the evening on day one of the inaugural Hellenic American Maritime Forum, in Athens.
The first Hellenic American Maritime Awards were announced on the sidelines of the inaugural Hellenic American Maritime Forum (HAMF) for which SAFETY4SEA and SHIPPINGInsight collaborated to provide an environment where shipowners and managers can voice their concerns and needs while finding solutions and collaborations. This unique event, which was held on 29-30 May 2019, in Athens, brought together the Hellenic American Maritime Stakeholders to discuss, network and exchange views and ideas towards a safe, smart, green, optimized, innovative and sustainable shipping industry.
The winners of the 2019 Hellenic American Maritime Awards are:
Viswa Lab received the Hellenic American Maritime Innovation Award, sponsored by SQEMARINE, for launching the first-ever horizontal scrubber in the market. Horizontal scrubbers weigh half or even less as compared to vertical scrubbers. The vessel actually saves in not having to carry this extra weight all through its lifetime. As explained, horizontal scrubbers consume less energy than conventional vertical scrubbers. The laboratory is also in the early stages of developing a "desulfurization" process to clean up heavy bunker fuel still sold on the market.
Wärtsilä received the Hellenic American Maritime Investment in Shipping Award, sponsored by SHIPPINGInsight, for making significant investments in research, product, development and production for the shipping industry. Wärtsilä is one of the marine industry's leading equipment suppliers with years of experience and technology know-how. The organization is also a global leader in smart technologies and complete lifecycle solutions for the marine and energy markets. Wärtsilä has set the development of efficient vessels, environmental solutions and gas technology as a key priority in meeting the evolving needs of the whole industry and its customers.
Panama Maritime Authority received the Hellenic American Maritime Center Award, sponsored by HudsonAnalytix for being a leading hub for the maritime sector, a global maritime nation and the world's largest state-owned ship registry. The Panama Maritime Authority provides services to the national and international trade and maritime industry, with high quality standards. The Authority guarantees legal security, within a framework of transparency, through competent human resources. The Panama Maritime Authority maintains world leadership in the Ship Registry and contributes to the sustainable development of the country.
Star Bulk Carriers Corp received the Hellenic American Maritime Dry Bulk Operator Award, sponsored by Bureau Veritas, for demonstrating operational excellence in dry bulk shipping. Star Bulk is a global shipping company, having a fleet of 111 modern vessels with an average age of less than 8 years and a total capacity of more than 12.6 million deadweight. Star Bulk's vessels transport major bulks which include iron ore, coal and grain, and minor bulks such as bauxite, fertilizers and steel products. Every year, Star Bulk ships more than 37 million metric tons of cargo across the world; safely, efficiently and with care to the environment.
USCG received the Hellenic American Maritime Guardians of Industry Award, sponsored by ABS, award for its valuable contribution to ensuring enhanced safety at sea. USCG carries out three basic roles – maritime safety, maritime security and maritime stewardship – and is lauded for its quick responsiveness in a broad range of emergencies. USCG maintains an extensive fleet of 243 coastal and ocean-going patrol ships, tenders, tugs and icebreakers called "cutters", and 1,650 smaller boats, as well as an extensive aviation division. According to statistics, on an average day, the USGC will conduct 109 SAR, save 10 lives and assist 192 people in distress.
Mr. Nicky A. Pappadakis received the Hellenic American Maritime Advocate Award, sponsored by Cayman Islands Ship Registry for promoting best practices within the industry when being past Chairman of Intercargo. Born in a traditional shipping family with its roots on the Aegean island of Kasos, Nicky Pappadakis began his career within the family firm of A. G. Pappadakis & Co. in 1961. Mr. Pappadakis himself served periods at sea as an apprentice on tankers and dry cargo vessels, while he was also qualified as an airplane and helicopter pilot. He was one of the first western shipowners to see the potential of China as a business partner and a builder of vessels, and he has maintained close relations with China ever since.
Mrs. Angeliki Frangou received the Hellenic American Maritime Visionary Award, sponsored by The Marshall Islands Ship Registry, for establishing a visionary leadership in maritime community globally. Angeliki Frangou is the Chairwoman and CEO of the Navios Group. Angeliki Frangou has stated that shipping is in her DNA and her greatest passion, which has led her to establish four organizations. The organizations, which are valued more than $4 billion, are: Navios Maritime Acquisition Corporation, Navios Maritime Partners L.P,  Navios South American Logistics Inc and  Navios Maritime Holdings Inc.
Adm. Thad Allen received the Hellenic American Maritime Lifetime Achievement Award, sponsored by The American P&I Club, for his outstanding career in the shipping industry. Admiral Thad Allen served as the 23rd Commandant of the Coast Guard from 2006 to 2010. He is now a U.S. Coast Guard retired and has recently joined HudsonAnalytix as a Senior Executive Advisor. His focus areas include regulatory and policy issues, crisis response and disaster management, environmental compliance, and cyber risk to shipping, ports, and supply chains. Adm. Allen was the lead federal official for the responses to Hurricanes Katrina and Rita and served as National Incident Commander for the Deepwater Horizon oil spill.